Jeera Biscuits Recipe
Jeera biscuits are typical Indian biscuits. Such biscuits are different from other sweet cookies. Jeera biscuits are flavoured with cumin and have a mixed salty and sweet taste. These biscuits are one of the items available in the bakery.
These tasty cookies are anytime snack but make the tea time special when served. These sweet & salty biscuits are perfect to throw a tea party at your home. These biscuits are available in the bakeries, but you can also make jeera biscuits at home.
How to make jeera biscuits at home? Following the simple method given below: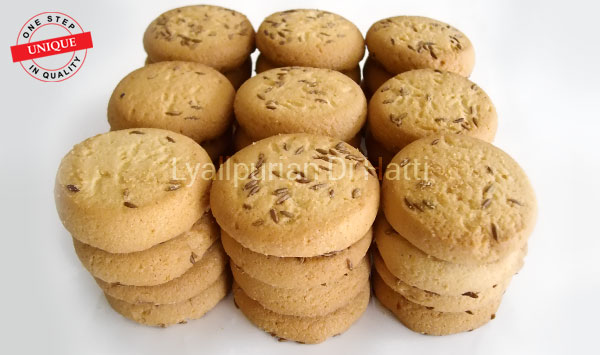 Ingridients
Maida

Jeera / Cumin

Sugar

Butter

Salt

Baking Powder

Baking Soda

Whole Milk
Method
Grind sugar and make a fine powder of it.
Roast cumin seeds for 1 minute in the micro.
Now sieve Maida, Baking Powder, Baking Soda and Salt.
Preheat the oven at approx. 150 degrees.
Mix butter and sugar in a bowl and make a smooth cream of it.
Now add roasted cumin, flour blend and some milk to prepare the dough.
Once the dough is ready, make small balls of it.
Take a flat tray and cover it with polythene or butter paper.
Place the dough ball on in and roll to make a smooth chapatti.
Cut the prepared chapatti in the desired shape.
Spread a buttered sheet on a flat baking tray and arrange all the pieces on it.
Place the tray in the oven and bake for 15-20 minutes.
Once you see the biscuits are getting golden brown, remove the tray from the oven and let all the biscuits cool down.
You can store these biscuits in an airtight jar to use on a regular basis.