Atta Biscuits Recipe (Yogurt)
Who does not love cakes and biscuits? Well almost every one of us loves them. And that is true.
Whenever we went to a mall or a big store, we always tends to search for the bakery section where we found a variety of cakes and specially the biscuits that are available in a variety of shapes and flavours. They are either made of whole wheat flour, refined flour and even multigrain flour.
Among all the biscuit recipes, Atta biscuits are my favourite and a much healthier option as these are made out of whole wheat i.e. Atta instead of Maida and hence helping u to relish our taste buds along with a punch of health. And it is even more satisfying if the biscuits are made at your home using your oven. Homemade Atta biscuits are even healthier than that purchased from the market.
So here I am sharing a quick and easy Atta cookie recipe:
Makes about 26-28 medium sized biscuits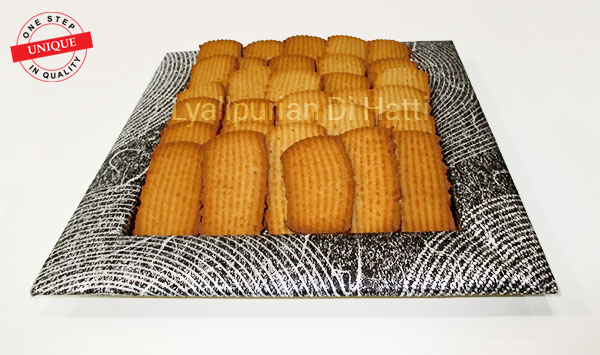 Ingridients
Whole wheat

1 cup or about 125 gms

Butter (chilled & not melted)

50 gms or 4-5 tsp

Baking soda

1/4 tsp

Baking powder

1/8 tsp

Milk

1 to 2 tsp

Yogurt

1 to 2 tsp

Sugar (powdered)

3/4 cup or about 95 gms
Method
To begin with an easy Atta cookie recipe, Take a deep bowl and add wheat flour, baking powder and baking soda into it.
Mix all the ingredients well using a whisker or spatula.
Add the butter into the dry ingredients by cutting them into pieces or you can also break it roughly using your hands.
Now mix the dry flour and butter by gently pressing them between your finger tips.
Mix them well till the flour takes the texture of bread crumbs.
Now add powdered sugar to it. You can also add any spice to it as per your taste like green cardamom or some nutmeg powder to give an extra tint of flavour.
Now add the curd and stir it gently.
At last add milk little by little as per the need and knead it using gentle hands.
Now cover the biscuit dough and rest it inside your refrigerator for 20-25 minutes.
In the mean time preheat your oven at a minimum of 180 degree Celsius.
After resting it for 25 minutes, take the dough out and start rolling it to a thickness of about 1/2 to 3/4 cm. the rolling will take an effort.
Now take some cookie cutters and cut the dough sheet into your favourite shapes.
After cutting your cookies, gather the rest of the dough and repeat the process till all your cookies are ready.
Simply place the cookies in the baking tray and bake them in oven for about 20-25 minutes or till you see a golden colour on the top of your biscuits.
Cool down the cookies by placing them on a wired tray or rack.
After they cool down and reach to room temperature immediately store them in an air tight jar to prevent them from being soggy.
Serve and enjoy your healthy Atta biscuits baked at home.