Atta Biscuits Recipe (Dry Fruit)
I am not such a person who is fond of cooking but baking is one thing that I love to do. Whenever I got time I indulge myself into baking cakes, biscuits, breads etc. It is one thing that I can do anytime no matter what.
Out of all the baking stuff, I love to bake cookies or biscuits the most. I love these rustic, humble, simple yet unique flavoured biscuits more for their crunchy texture than that of the look. I keep on trying new recipes with my own little twist in it. My friends and family loves eating them and I even got requests on how to make biscuits in oven or how to make biscuit at home. I remembered a request from a friend a few weeks ago for an Atta Biscuits recipe. She told me that she had tried so many Atta biscuit recipes but they never came out well. So she reached out to me to help her in easy Atta cookie recipe.
Here I am sharing a quick and easy recipe of how to make Atta biscuits home using oven:
Makes about 32-34 medium sized biscuits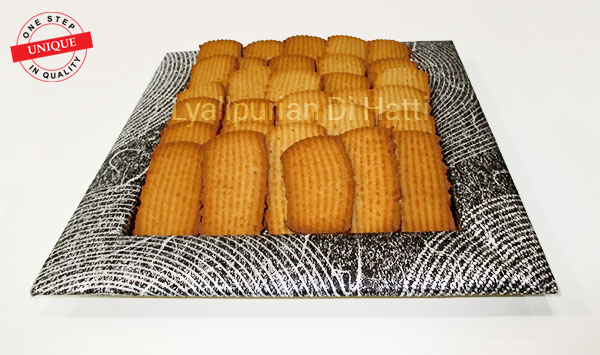 Ingridients
Whole wheat flour (atta)

1½ cup

Sugar (powdered)

½ cup

Unsalted butter (not melted)

100 gm

Baking powder

½ tsp

Salt

a pinch

Milk (cold)

5 to 6 tsp

Green cardamom powder

½ tsp
Cashew or other dry fruits as per your taste for garnishing
Method
To begin with this easy homemade Atta cookie recipe, preheat the oven to 180 degree Celsius and line your baking tray with parchment paper.
Now take a mixing bowl and add wheat flour, baking powder, salt to it and thoroughly mix it with a spatula or spoon.
Add the chilled butter into the dry mixture by cutting it into small cubes with the help of knife and gently rub this butter and dry flour mixture with your finger tips till it takes a coarse bread crumbs like texture.
Add the rest of ingredients i.e. sugar as well as cardamom powder and mix.
Now start adding the milk little by little till all the mixture comes together and looks like a dough. Simply mix all the ingredients together and do not knead it.
Divide the dough into 36 equal portion and roll out each ball to a thickness of ¼ inch
To make the process easier you can divide the dough into three sections. Roll out each section into the thickness of ¼''. Cut the dough using cookie cutters. Repeat the process till all your cookies are ready to bake.
Arrange these cookies into the prepared baking tray and garnish them with dry fruit of your taste (optional).
Bake them for about 22-25 minutes or till a golden layer formed on your cookies.
While you are cooking the first batch, keep the rest of cookies in refrigerator unless the butter will melts and the biscuits turn out to be less crispy.
Let them cool down a little on a wired tray and store them into an air tight container.
Serve and enjoy these Atta cookies and don't forget to share this easy Atta cookies recipe or Atta biscuit recipe with your friends and family.